Fore – Papua New Guinea
In the 1950s the neurological disease Kuru was discovered in the South Fore. The local tradition of ritual cannibalism of their dead had led to an epidemic, with approximately 1000 deaths from 1957 to 1960. Upon the death of an individual, the maternal kin were responsible for the dismemberment of the corpse. The women would remove the arms and feet, strip the limbs of muscle, remove the brain and cut open the chest in order to remove internal organs.
Shirley Lindenbaum, one of the early kuru researchers, states that kuru victims were highly regarded as sources of food, because the layer of fat on victims who died quickly resembled pork. Women also were known to feed morsels – such as human brain and various parts of organs – to their children and the elderly.
It is currently believed that kuru was transmitted among the South Fore through participation in such cannibalism, although opportunistic infection through wounds when removing infectious tissue from the corpse can be assumed to be another cause, as not all cases can be explained by ingestion of infectious tissue.
Though the Fore would not eat those who had apparently died of disease, and so did not so easily catch other diseases via cannibalism, they believed that kuru was a mental affliction caused by a curse rather than a physical disease.
The kuru epidemic reached its height in the 1960s, having recorded over 1,100 deaths of the South Fore from kuru between 1957 and 1968. The vast majority of victims among the South Fore were women. In fact, eight times more women than men contracted the disease. It later affected small children and the elderly at a high rate as well.
Lindenbaum and Vincent Zigas worked among the South Fore in New Guinea trying to identify and catalog the symptoms and possible behavior causing the disease. Daniel Carleton Gajdusek also traveled there in 1957, to study disease patterns in indigenous and isolated populations.Lindenbaum, Zigas, and Gajdusek were all crucial to explaining the specifics of kuru to the rest of the world.
Although the prohibition of cannibalism in the 1950s led to the steady decline of the epidemic, it has lingered into the present century by an incubation period that can exceed 50 years.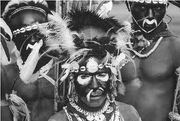 Ad blocker interference detected!
Wikia is a free-to-use site that makes money from advertising. We have a modified experience for viewers using ad blockers

Wikia is not accessible if you've made further modifications. Remove the custom ad blocker rule(s) and the page will load as expected.